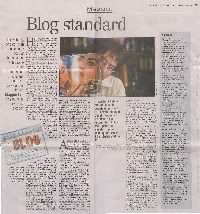 Fellow library blogger
Natalie Biz
sent me a lovely Christmas present today. She forwarded a link to an article about Blogging published on December 5 in New Zealand's
Dominion Post
newspaper. The article features her blog prominently and is a rather nice write up of the recent controversial events surrounding it. Also included, in a side bar to the article, are a list of other blogs of interest. Included there, under the International Blogs heading, is a certain WV based "liberry" blogger.
I have to count this as one of the coolest and most welcome bits of fame I've experienced due to this blog.
(Also congrats to Violet from
Short & Sweet Like Me
, another favorite library blog who was also mentioned. Kinda ironic, since she
just quit her job
at the library there.)
Check it out for your own bad selves
HERE
.